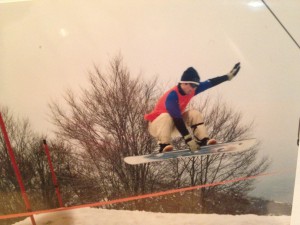 When I came across this old photo recently, I was really proud. This was only my first season snowboarding, and I'd taken to it with passion, zeal, and feeling. I don't think I'd ever been so absorbed by something like this. There is little in my own schooling that would have compared to this kind of immersion. I lived and breathed snowboarding in Japan, even though most of the time I couldn't speak much of the language with people on the mountain or read the snowboard magazines I would buy. I learned by trial and error, through friends, and watching videos, photos, and others.
There was a period of rapid learning and improvement in those early years, when every day on the snow another technique or another trick was added to the repertoire. Then it was about practice and refinement. I struggled with practice and refinement; I don't think I've ever been particularly good at picking myself up after failure. There were plenty of crashes, bumps, and screams of frustration too. Yet all I needed to keep going was the sense that I could see myself getting better, and of course the gradual acquirement of better equipment. This was yearning to learn. I was 27.
On Saturday afternoon I attended TeachMeet Melbourne held at the Royal Children's Hospital. There was a series of interesting short talks from teachers speaking about their passion for learning, and the innovations they were discovering. During the break one of the attendees asked whether I was presenting. 'No,' I replied 'I've never presented at TeachMeet. I haven't felt I had any learning's to share.' She replied, 'Well, you've just been to Japan, it would be great to hear about what you learnt from that.' Yes it would, I thought. But I don't think TeachMeet is really the forum for sharing travel stories, or selling my passions; it should be about what you do to educate others, and what you learned while doing so.
If I did give a TeachMeet talk on snowboarding, I would repeat the first two paragraphs above. Then I'd look long and hard at the audience, and say 'I don't have many regrets, but I regret finding my passion for snowboarding at age 27. As an educator I don't have many regrets, but I regret not being more aware of finding what made my students passionate, and doing everything I can to help them pursue it.' When we're yearning to learn, there is little that stands in our way for absorbing the skills, content, and experiences; even the language. We hit stumbling blocks on this path, and can often stagnate, like I did with snowboarding. This is why we need to have good mentors and networks to push us, motivate us, and guide us.
Finding (and sustaining) a yearning to learn is crucial for all of us, whether it's snowboarding or a TeachMeet. I suspect there are many adults and a lot of children who haven't found this yet, let alone experienced it. It would indeed make for an interesting education environment where this was the mission.